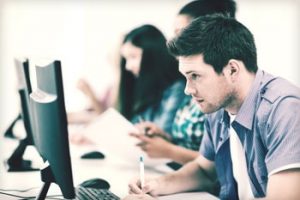 The purpose of the activities of this Result Area is to strengthen the capacities of CSOs and to improve their effectiveness, in particular their ability to monitor government actions and track budgetary spending.
It is envisaged that the best way to reach out to the CSOs in the beneficiary countries is by using new technology, and thus by means of e-learning courses (including webinars).
Technology can play a hugely important role in the reform of the role of civil society in local development and capacity development of CSOs. E-Learning has the potential to open educational opportunities to civil society actors at all levels that may not otherwise have access to such materials. At the same time, new technologies can make teaching time much more productive by allowing access to a much wider audience. Nevertheless, it must be made clear that technology is not a panacea that will automatically increase either the quantity or quality of the training delivered. The effective use of e-Learning tools requires a high initial investment in time from the side of the trainers. It needs to be understood that the creation of a good quality e-Learning programme is not simply about the digitization of existing materials. Rather it is a whole new way of delivering knowledge to an audience
New training modules will be developed particularly on issues of a crosscutting nature. The topics of most interest will be collected through on-line survey and close communication with targeted CSO community.
Many e-learning initiatives fail to achieve expected results because of the incorrect assumption that e-learning is driven by technology. We believe that the ICT (communication means, hardware and software, etc.) is the easiest component of an e-learning development to implement.
The GDSI Consortium will therefore lay the key emphasis on methodology, organization and competence. The bottom line here is that e-learning isn't an ICT project, it is an educational project.
E-learning will not work unless it is supported by an adequate organisational structure. Therefore, during the project the TA team and CDSI E-learning Centre will provide this structure, and communication with established elearning providers will be initiated to ensure the courses continue to be available beyond the life of the project.
The structure for the e-learning delivery is not just a web site with video/ presentations that anybody can just log in. It will be a real e-learning platform supporting various modes of training delivery, including:
Scheduled on-line workshops with a tutor;
Video instructions followed by questions;
Recorded lectures by tutors who can take questions through chat applications;
On line forum to discuss topics;
Independent assignments and tests, etc.
As stated above all courses will be thoroughly tested on a number of selected CSOs/ interested parties and will be available in the languages as per the identified demand for these courses.