A common issue that many organizations working with datasets face is how to visualize their data and make it interesting and clear for an audience. There are numerous visualization tools, tips and tricks for CSOs and many of us do not know where to start. Maya Stravinskaya, a data journalist from Russia, shares her knowledge on data visualization and how using this properly can enhance the impact of your content.
Please note that the video is in Russian.
Maya Stravinskaya, a data journalist, journalist from Kommersant.ru & Snob.ru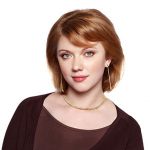 Maya is known as the Team Leader of Rambler's special infographics project and the editor of JSKT data group.
Download presentation (pdf, 14,1 МБ)
[su_document url="https://elearning.eapcivilsociety.eu/wp-content/uploads/video/Stravinskaya Data Visualisation.pdf"]