In this presentation Anton Perkin, CEO at FusionWork in Moldova, shares his experience on working with data collection. Anton thoroughly explains the process of collecting data and analyses what determined the success or failure of his numerous projects. Practical advices and examples will help you understand the nature of data collection and what challenges you might encounter throughout the process.
Please note that the video is in Russian.
Anton Perkin, CEO and co-founder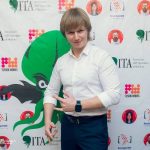 Anton Perkin, CEO at FusionWorks, founder of DeveloperMD Community, co-founder at 3DTur, co-founder at Generator Hub, president of Association of IT specialists of Moldova, vice-president and Program Manager at BioDatomics,  Senior PHP developer and system architect. Developed projects are used in health care, government, education, real estate, journalism, entertainment and sport in Moldova, EU and USA. Was engaged into several PHP based developments which purpose is elaboration of a competitive PHP framework. Interested in organization and sponsorship of different IT related events.
Download presentation (pdf, 0,91 МБ)
[su_document url="https://elearning.eapcivilsociety.eu/wp-content/uploads/video/Perkin Data Collection.pdf"]