Nowadays online education is becoming a real alternative to traditional educational systems. We do believe that e-learning is a powerful instrument for civil society activists to improve their skills, expand their knowledge, strengthen their capacities and increase their organisations' efficiency and impact. That's why we are working on providing civil society representatives with targetted online courses and materials that are perfectly adapted to their needs and the situations they face in their daily work.
On our e-Learning Hub, you will find a number of online courses, webinars and video-lectures that will provide you with the tools and skills in areas as diverse as policy analysis and monitoring, project management, digital competences and web-design for CSOs. We are also offering a number of blended courses that combine online elements with face-to-face trainings to have an enhanced impact

.

Technology can play a hugely important role in the reform of the role of civil society in local development and capacity development of CSOs. E-Learning has the potential to open educational opportunities to civil society actors at all levels that may not otherwise have access to such materials.

The course is designed for representatives of the civil society of the Eastern Partnership countries who implement social projects using information technology. The course is based on a review of more than 70 digital tools, resources on project management, design and publication of content on the Internet, organization of teamwork and effective communication with stakeholders. […]

TRAINER/SPEAKER: Kingsley AIKINS, CEO of The Networking Institute Kingsley Aikins is a recognised international expert on Networking and has written and spoken extensively on the topic. He has run workshops and presentations for some of the world's leading companies such as Google, Linkedin, Accenture, Deloitte, Intel, KPMG, PwC and a number of leading law firms […]

The webinar focused on the basics of the design thinking methodology as applied to the social change sector. It covered the process of designing a product or service for impact, including problem definition, idea validation and exploration, and logic models. Participants were able to combine classic models for civil society organisations with user-centric approaches to […]

This webinar addressed more fundamental challenges in today's information world. During the webinar our speaker guided participants through the following questions: What is fact and what is fiction? Whom can we trust? How is my view of the world right – and how might it be wrong? Using insights from logic, analytical philosophy, and cognitive […]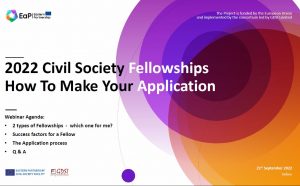 Information webinar for potential applicants of the 2022 Fellowship Call. The webinar gives interested applicants the opportunity to find out more about the programme and the application process. The 2022 Call for Applications for the EU-funded EaP Civil Society Fellowships programme is open with the deadline of 15th of October 2022. Download presentation from this webinar: […]