UpsideLMS uncovers the truth on Learning & Development myths perpetuated for many years in its recently released infographic.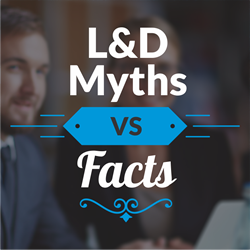 UpsideLMS, a leading provider of learn-tech solutions, continues to strive to spread awareness about learning and development practices and emerging technologies, and increase adoption of technology-enabled learning in the workplace. Most recently, UpsideLMS has released a comprehensive infographic titled 'Top 6 L&D Myths to Debunk in 2019' to help L&D professionals and learners alike to be aware of some of the most wrongful myths existent in the market in 2019.
Myths are beliefs that are prevalent despite repeated evidence that they're wrong. These learning myths lead learning professionals to invest in approaches that either waste time and money or hinder learning, which harms both the learning industry as well as the learners. Today, many myths still persist despite the evidence, and many of them greatly affect the learning and development industry. Despite research results and considerable attention, large numbers of myths are still endorsed by several unaware L&D practitioners.
The 'Top 7 L&D Myths to Debunk in 2019' offers detailed insights into the challenges faced by L&D professionals in separating the facts from the myths, with research backed evidence supporting the Dos from the Don'ts. Apart from highlighting the myths and their emergence, the infographic also outlines valuable information about how such longstanding myths keep organizations from getting the most out of their L&D efforts, thus impacting their business growth.
With more and more organizations looking to leverage L&D and learning technology, the 'Top 6 L&D Myths to Debunk in 2019' offers effective guidelines that will help businesses analyze their L&D practices and make informed decisions that to successfully achieve desired business objectives.
The infographic is available for download.
About UpsideLMS
UpsideLMS is a leading provider of learning-technology solutions to businesses worldwide. Established in 2004, it has been consistently building a legacy of innovation and best value for its 1M+ happy users.
UpsideLMS' portfolio of solutions and services includes:
UpsideLMS – A cloud-based, full-featured Learning Management System with support for Online, Offline, Formal, Social/Informal and Mobile Learning.
UpsideLMS Mobile – The (Online) Mobile App extension of our multi-award-winning learning platform, UpsideLMS, for delivering Online, Formal (including ILT and Virtual) and Social Learning.
UpsideMOVE – A Mobile App for delivering Offline (no Internet) training in the form of Videos, Reference Materials and Courses, powered by UpsideLMS.
Off-the-Shelf eLearning – A wide range of ready-to-use, mobile-friendly, micro-learning eLearning videos and courses.
A winner of 38 industry awards and recognition, it is driven by a team of committed individuals who have made it their mission to make L&D a success for companies of all sizes and types across industries and countries.
To learn more about UpsideLMS, visit www.upsidelms.com/uk.
Source: Learning News